Fear the aerosol hairspray no more!
Curl Last is a game changer. After years of research, OUIDAD has finally reinvented hairspray. Over the last month, I have used this product at the salon on all curly textures, and it has quickly become one of my favorites!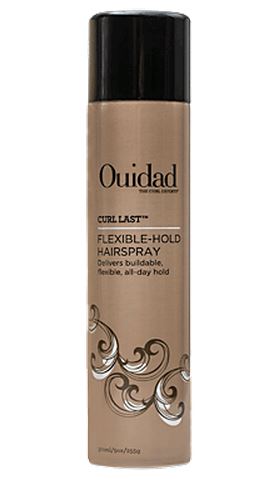 What's not to like about this product? Its soft, flexible, buildable hold is unmatched, and it feels more like a leave-in conditioner than a hair spray. Extremely versatile and perfect for all curl types, it's the kind of product that is fun for stylists to work with and a joy for clients to have.
MY STYLIST TIPS:
Spray on dry, finished curls for soft, flexible hold that allows curls to feel bouncy and move freely without stiffness.
Apply to wet curls immediately after finishing the rake and shake technique and before using a diffuser to dry the hair. Curl Last will shield the curls and provide greater definition, more shine and soft hold.
Create the perfect beachy/tousled look instantly. After using your favorite OUIDAD styling products to style hair, flip your hair upside down and spray the underneath layer of curls with Curl Last. Scrunch and massage the hair at the scalp. Finish by spraying just a touch of Curl Last on the top for a bit more hold.
For very tight curls and kinky textures, I use the Curl Last in a very unique way, and the results have my clients looking in the mirror saying, "What just happened here?" After I finish styling their curls, I have them flip their head over and I alternate between spraying Curl Last and using my blow dryer to just gently blow all over their curls. I do this to loosen the tightness of their curls a bit and give hair a more playful, softer look.
Try it out, and let your curls reap the benefits!
Cypriano