In addition to our Ouidad Flagship Salons in New York and Santa Monica, we're continuously building our network of Certified Salons specially trained in our practices. If you follow us on Instagram, you've probably seen our #OuidadModelSearch posts, in which we search for naturally curly hair models for training sessions in the Ouidad curl cutting and styling methods.
In order to become a Ouidad Certified Salon, the salon stylists undergo a rigorous 2-day training led by our education team. It's always best to practice on real curls of all types and textures, so we typically recruit from the real world. How can you join in? Read on to find out more!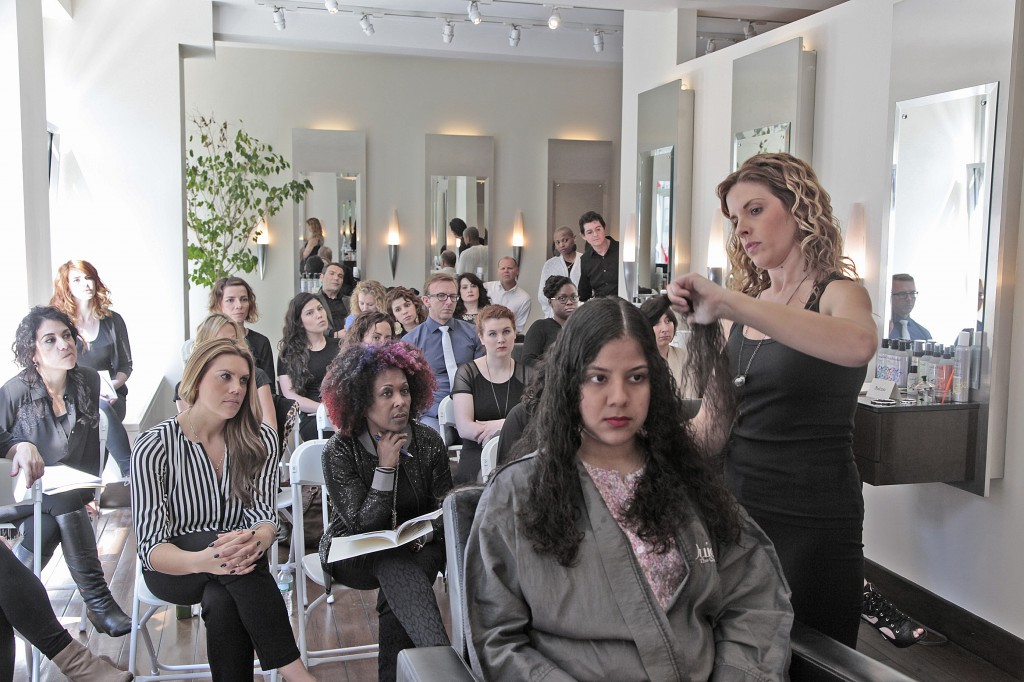 Becoming a Ouidad Certified Training Model
The Ouidad Certified Training is an in-depth course to help the stylists develop their curl eye, enabling them to approach curly, tight and kinky textures with full confidence. As a hair model, an experienced stylist will practice our trademarked cutting and styling method on your hair under the guidance of a Ouidad Certified stylist and educator. The cut itself will not be drastic – unless, of course, you want it to be! – as it's more focused on bulk and movement rather than length.
When selecting hair models, we typically look for people with curly, tight and kinky textures. Hair must also be 4" or longer and feature no transitions or extensions. Models must also be 18 years or older and can typically expect to be at the salon training location for two to four hours.
After indulging in a complimentary haircut and style, models leave the salon with a Ouidad gift bag with additional products for them to experiment with in their at-home curl regimens!
Upcoming Ouidad Certified Training Dates
Have we convinced you to embrace your curls and to visit The Curl Experts yet? If so, check out our upcoming Ouidad Certified Training dates! For more details and to sign up, email a picture of your naturally curly hair to the Regional Education Manager at the location closest to you!
Flagship Salon – Manhattan, NY
Contact Our Education Team
October 26-27
November 16-17
Tri-State Locations
Contact Theadora
Upcoming Dates TBD - email for details!
Florida Locations
Contact Athena
November 9-10, Jacksonville
Illinois Locations
Contact Trisha
Upcoming Dates TBD - email for details!
Colorado Locations
Contact Trisha
November 2-3, Centennial
California Locations
Contact Claudia
Upcoming Dates TBD - email for details!
Oregon Locations
Contact Claudia
October 26-27, Portland
Learn more about our Ouidad Flagship and Certified Salons.