It's been just a few months since our Superfruit Renewal™ Clarifying Cream Shampoo has been out on the market and it's been taking curls by storm. This gentle, sulfate-free cleanser effectively removes product build-up without stripping or drying out curls like other clarifying shampoos.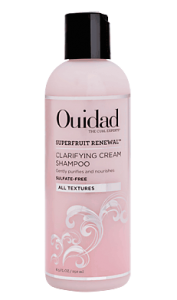 It seems like we're not the only ones obsessed with this amazing smelling and effective cleanser. Here's what others are saying:
Naturally Curly
20 Super Sweet Hair Products to Indulge In
"A clarifying shampoo that doesn't make your hair feel like straw?" Who would've known!
15 Minute Beauty
15 new Hair Products That Stylists Are Excited About
Christine talked to our very own Morgan, Creative Director, for the scoop on Superfruit. "Ouidad has launched a new clarifying shampoo 'Superfruit,' which is a hydrating, moisturizing clarifier [...] When looking to do a conditioning treatment, start process with a cleaning, hydrated state…. First use Ouidad's Superfruit to remove unwanted buildup to insure the best overall results when conditioning."
Hooked on Beauty
Best Clarifying Shampoo I've Used in a Long Time: Ouidad Superfruit Renewal
Why does Carissa call Superfruit one of the best clarifying shampoos she's used in a while? "This is a gentle, sulfate-free formula that really cleans my hair completely without that 'squeaky' or dried out feeling. No sulfates mean no lather so I'm able to really massage my scalp and cleanse all of those shine-enhancing products that I use away so I can give my hair a fresh start. They use fruit acids from açai, blueberry, cranberry, papaya, and pomegranate instead of harsh chemicals to cleanse so my hair smells really fresh and looks bouncy and healthy."
Vanity Rouge
7 Summer Hair Care Essentials
Angie snatched the bottle as soon as it came across her desk. "I am in love with the grapefruit scent of this, and because it is a cream formula it is unlike any clarifying shampoo I have used before, which is a good thing! My hair comes out feeling very clean without leaving it feeling stripped."
Have you tried the Superfruit Shampoo? Let us know what you think in the comments below!