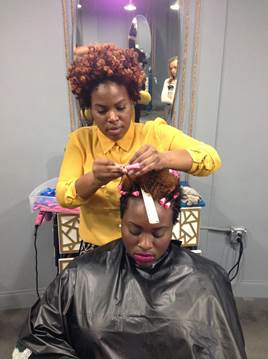 Loop Salon's Ouidad Certified Stylist, Danielle Carrington
Transitioning 101, the first in a series of natural hair classes, is a course designed to teach trained stylists on hair care during the transition from relaxed to natural hair.
The course began with a well-researched presentation sharing natural hair care facts along with case studies of hair types in transition.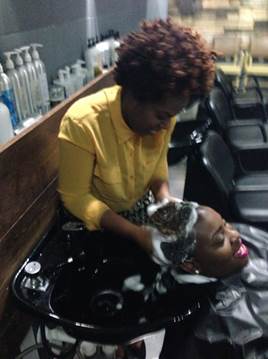 Danielle demonstrating how to gently cleanse transitioning hair
The presentation was followed by a class discussion on the good and bad, the exiting and not so exciting, as well as the hot and not so hot points of the transitioning process. During this time there was an open floor discussion, which allowed each student the opportunity to receive direct answers to their transitioning questions. The second half of the class provided a hands-on tutorial for hairstyles that are perfect during the transitioning process.
Techniques were taught for the perfect twist out and the correct way to use perm rods to produce perfect curls using the Ouidad Curl Recovery line.
At the end of the course the stylists left with fresh ideas on styles and hair care tips as they service clients during the transitioning process.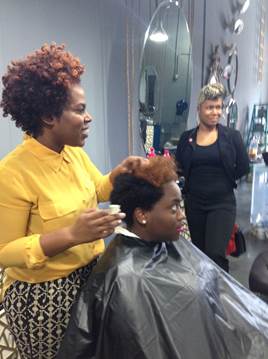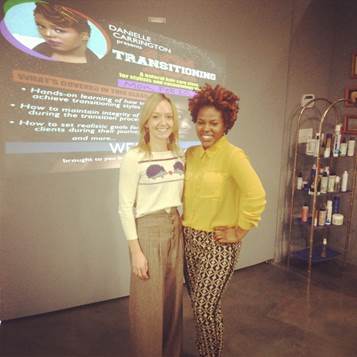 Ouidad Southeast Regional Trainer, Athena Pearson & Danielle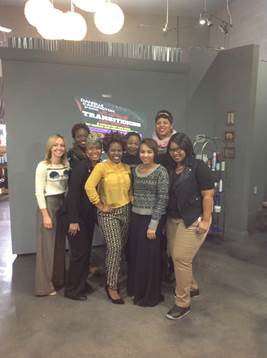 The Loop Salon Team