"No matter the season, you must always protect your curls!
Follow my "Frizz -Free" steps below to avoid winter frizz!"
- Ouidad Creative Director, Morgan Willhite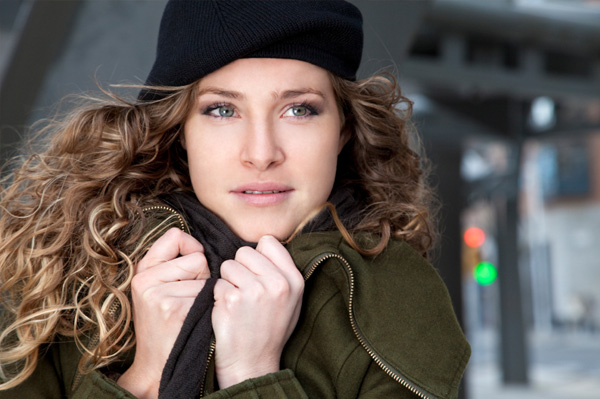 photo via sheknows.com
Summer humidity may not be a problem right now, but have you ever considered the friction and discomfort your curls have to endure during the winter months?
Dropping temperature, elements like snow, and friction from winter hats, bulky jackets and scarves are all huge contributors to winter frizz and dehydration. Here are my tips for keeping that winter frizz at bay!
1. Hydrate
Lack of moisture is always a factor leading to frizz. This year treat your curls by making deep conditioning treatments a part of your regimen. Ouidad's Curl Recovery Melt-Down Mask  is essential to maintaining the health and integrity of your curls.
2. Use Proper Styling Techniques.
Follow these styling steps below to hydrate, protect and maintain defined frizz free curls!  It's no different when styling curls. Follow these basic steps to curly success.
Apply a Leave-in Treatment or Styling Primer. This should be applied right out of the shower while your curls are soaking wet to lock in that vital moisture.
Apply your styling product using the Ouidad Rake & Shake technique to wet hair in sections. This ensures even distribution and sets your curl pattern.  Try our Award-Winning Climate Control Heat & Humidity Gel. This gel perfectly defines curls while heat-activated wheat proteins protect the hair shaft and prevents hair from expanding.
Don't Touch! Once gel is applied and your curls are drying, avoid touching to avoid frizzing. Whether you air dry or diffuse, allowing your curls to set ensures your desired frizz-free finish.
3. Make Your Style Last.
After taking the time to properly hydrate and style, I'm sure that you want the longevity of the beautiful results you've just achieved! Just a few things to keep in mind to extend your day style into days.
Again, no touching! Playing with your hair expands your curls leading to frizz.
Sleep with your curls gathered loosely on the top of your head, securing with a soft hair tie  "Pineapple Style". This method helps avoid friction. I also suggest investing in a silk pillowcase. Cotton can be very drying to curly hair and ruin your style!
4. Don't Leave the House with Wet Hair!
Make sure hair is dry before stepping out into the freezing temperatures. It's not good for your health nor your hair! Naturally curly hair tends to be dry. Allowing the curls to turn into icicles,  encourages breakage on brittle ends.
5. Always Keep Winter Purse Essentials.
Ouidad has created an amazing product called Mongongo Oil. This super concentrated multi-tasking serum is known as "hair food" in Zambia due to its high content in Vitamin E. This oil can be used to repair and hydrate curly ends, and mend frizz and flyaways. It's a great purse essential due its small size and multitude of benefits….not to mention it smells great!