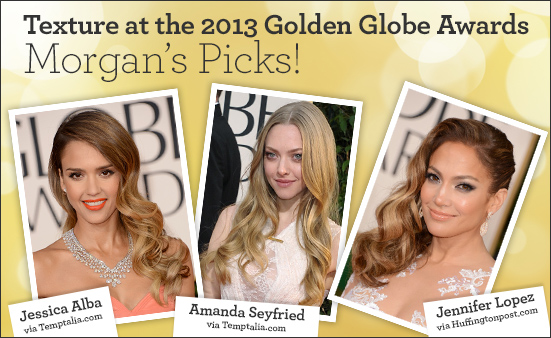 Sunday night, our Creative Director & Lead Stylist, Morgan Willhite, tuned into the Golden Globes to scour the red carpet for TEXTURE and CURLS!
Here are her favorites and how to get the look.
At this years' 2013 Golden Globe Awards, retro was the "new wave"! The ease of effortless wavy hair swept to one side was the look for many celebrities, like Jessica Alba and Jennifer Lopez.
How to Get the Look
Achieving this look is an breeze……Rollers are the key to achieving those soft flowing waves.
1) On wet hair, apply a quarter size amount of Ouidad's Climate Control Gel throughout hair. Now this is where you have two options. You can either roller set your hair wet using a overhead dryer, or dry hair thoroughly and follow with Velcro or steam rollers.
2) Once hair is, dry and cool to the touch, simply remove rollers and use a panel brush or your fingers to breakup the waves to create finger waves.
3) Once curls are placed, add a few sprays of Ouidad's Climate Control Frizz and Flyaway Fighter to your hands and gently smooth over surface to mend the hallow of frizz.
4) Finish with Ouidad's Styling Mist Hairspray, for a lasting hold!
The textured updo was another great look at the Globes. I was loving the smooth sweeping finger-wave updo, like Amy Adams. You must prep the hair in the same manner as worn down. After smoothing away the flyaways, hair pins will secure the curls in place. If a curl or two happen to fall down, go with it! It's a soft romantic look, not requiring a smooth, severe finish.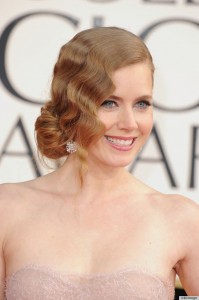 Amy Adams via HuffingtonPost.com
Categories: Ouidad How Tos, Styling
Tags: Amanda Seyfried, Awards Season, beauty, Fashion, golden globes, Jennifer Lopez, Jessica Alba, Ouidad, Ouidad.com, Red Carpet, style